---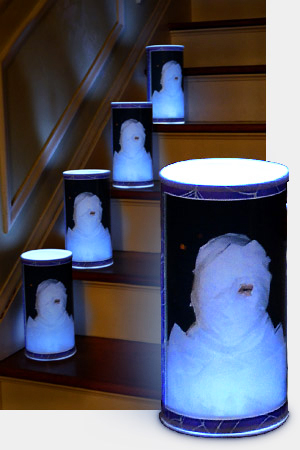 ">
Description
Custom photo lanterns set the tone for a spooky night. And with prints from the KODAK Picture Kiosk you don't have to worry about rain or moisture damaging your lanterns if you use them outside.
Time to Complete:

00:30

(hh:mm)

Skill Level:

medium
What you'll need:
Multiple 8x10 photos — 2 for each lanterns
Battery-operated votive light
Plastic lids — 2 for each lantern
Tape
How to Make It
Print your pictures on the KODAK Picture Kiosk or the My KODAK MOMENTS App.
Lay the two pictures flat and tape together with a slight overlap.
Form a cylinder with the photos and tape together with a slight overlap. The cylinder should be sized to fit just inside your plastic lids.
Attach bottom lid.
Insert light and attach top lid.
TIPS: 
Black & white photos are great for Halloween.
Oatmeal lids are sized perfectly for 8×10 photos.
A roll of paper towels makes a good form to wrap the photos around.
The lanterns can be easily disassembled for storage until next Halloween.
Consider using solar lights in the lantern to line your walkway. Just cut a hole in the bottom lid to insert the light stake.
Try using holiday twinkle lights to hang the lanterns in a garland. Simply cut a small X in the top lid to insert the bulbs.