---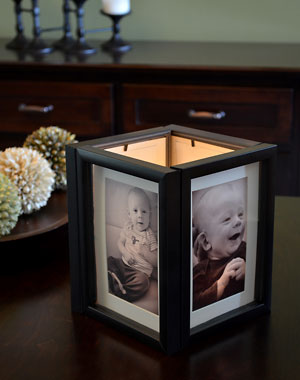 ">
Description
Bring your pictures to life by putting them in frames and then lighting them from behind. Whether you're enjoying a quiet night at home or having guests over, it's sure to add to your décor.
Time to Complete:

00:45

(hh:mm)

Skill Level:

medium
What you'll need:
Photos
Frames
Glue
LED Candle
How to Make It
Go to a KODAK Picture Kiosk and print some favorite photos
Insert the photos in the frames but do not use the cardboard backing that came with the frames.
Glue 4 frames into a 360-degree display.
Place an LED light behind the frames.
TIP: Use a battery operated votive, readily available at craft stores, for a safe and beautiful display.