---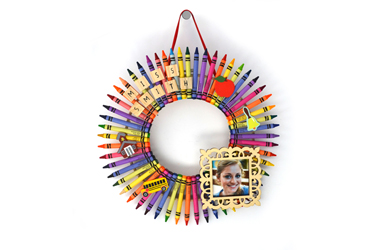 ">
Description
Brighten a teacher's classroom or door with a wreath made with crayons and personalized with a photo and his/her name.
Time to Complete:

1:00

(hh:mm)

Skill Level:

hard
What you'll need:
A photo of the teacher
6-inch embroidery hoop
9-inch embroidery hoop
Approximately 60 crayons
Small wood frame
Wood craft letters
School themed wood shapes
Ribbon
Hot glue gun and sticks
How to Make It
Print your picture on the KODAK Picture Kiosk or with the My KODAK MOMENTS App.
Glue the photo inside of the small wood frame.
Place the 6-inch hoop inside the 9 inch hoop and glue the crayons around the radius so that each crayon is glued to both hoops.
Spell out the teacher's name with the letters and glue to the wreath.
Glue the photo frame and school shapes to the wreath.
Tie a ribbon to 9-inch hoop at the top of the wreath.