---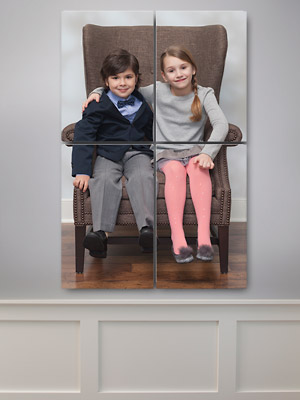 ">
Description
Cut up one large poster-size print and mount in separate frames leaving a little space in between for a cool mosaic look. Order a poster print at a KODAK Picture Kiosk.
Time to Complete:

00:15

(hh:mm)

Skill Level:

easy
What you'll need:
Large poster print of your favorite photo
4 Borderless frames
How to Make It
Go to a KODAK Picture Kiosk and print a poster of a favorite photo.
Cut the poster into 4 pictures to fit the frames.
Mount, leaving some space between pictures, about an inch.
TIPS:
Take old pictures to the KODAK Picture Kiosk and scan them using the Rapid Print Scanner so you don't ruin the originals. You can also store all your old photos on a KODAK Archive DVD and keep them safe for generations.
When selecting the photo, keep in mind that you will be cutting it in half in each direction. Avoid photos that have important details where you'll be cutting.