---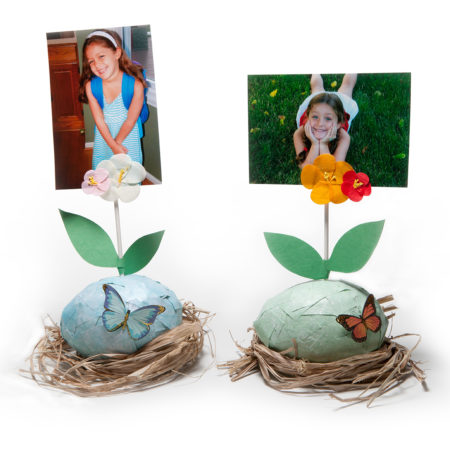 Time to Complete:

00:30

(hh:mm)

Skill Level:

medium
What you'll need:
2 photos
Styrofoam eggs (2)
Construction paper
2 sheets of scrapbooking paper
2 sticks
Scrapbooking embellishments like flowers and butterflies, if desired
Straw or nest material, if desired
Scissors
Glue or tape
How to Make It
Print your pictures on the KODAK Picture Kiosk.
Cut scrapbooking paper into 2-inch strips and glue to styrofoam eggs.
Insert sticks into eggs.
Cut leaves from construction paper and glue to sticks.
Glue flower and butterfly embellishments, if desired.
Tape pictures to the top of the sticks.
Set eggs in straw to resemble nest, if desired.