Cole Barash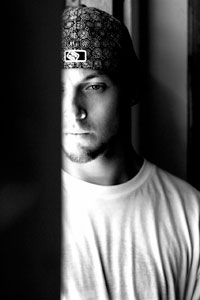 By the age of thirteen, Cole Barash had begun to define his vision of the world through the lens of a camera. It is said that a young man is stimulated by the consciousness of how much depends upon his own exertions, and this held true in the awareness and determined pursuit of the craft by adolescent Barash. Now, only a few years later, Cole Barash's work is among the most publicized and respected in the world of snowboarding. From magazine cover shots to international advertising campaigns, the strength and influence of his creative vision is undeniable. He continues to evolve both as a professional photographer and as a student of the creative process, by exerting himself at every opportunity.
Joel Muzzey
Senior Editor
Transworld Magazine
---
Winter Sports Photography – The Action and the Journey
Rule of thirds
This is a pretty basic rule in photography about composition; however I feel a very important one. Composing your subject matter in the middle of the composition is usually pretty boring, as it may cause the image to feel static or stale. You want to create a composition that has tension or contrast to one side. Never put your subject in the middle of the frame, break your image up into thirds (vertically or horizontally). This may portray things in the composition as dominant or in contrast, small.
When I shot this photo in the backcountry of British Columbia I wanted to give the environment around us the dominant part of the composition. So, I put Ikka (the rider) in right hand third of the frame.
---
Show unique perspectives
When I started shooting I wasn't into the full frame action shots, in your face, blue sky, and white snow kind of snowboarding shots. To me they were a dime a dozen, and I was much more into the style of Kevin Zacher or Vincent Skoglunds style. They would break "the rules" and show unique perspectives.
In the following images of Nic Sauvé and Pat Moore, I wanted to deliver a very abstract view of the environment. Focus more on the lines and patterns of the composition, then the action. Don't be afraid to be different, experiment and try new angles. When you bring a new fresh perspective to an old location or trick, in my eyes you are successful. Start to train your eye to include elements in your compositions that normally don't belong there. Almost if you are trying to bring your viewer right into the scene you are shooting.
---
Tell the story
This relates to the last tip (#2), as I want to encourage you further to incorporate you foregrounds and other elements in your compositions to help tell stories. I sometimes like to leave the viewer thinking with pieces to a puzzle, causing them to look a little closer to really see what's going on.
Such as this image of Pat Moore on a hip jump in Washington. Where you have the same perspective as Kevin (the guy who's sitting on the bench) but also included in the gritty wet environment of that foggy day. If you look a bit closer you can tell that it was shot into a window refection at the lodge.
Personally, with all the beautiful tones and perfectly exposed pictures of the digital age I get burnt on it. I miss the gritty feel of fast BW film, such as the Kodak TMZ 3200. If you want to experiment with this style, grab a roll of this film, and expose it at ASA 1600 (aka -1 stop).
---
Experiment
I believe part of being a photographer/artist/creative is experimenting and breaking the rules. For me, this is how I push myself personally.  Typically, this crucial of an action shot of Stevie Bell would be zoomed in tight; the scene would be full flashed as you would not want to miss this shot.
For some reason that day, I said screw it. I am going to pull back, and only light the rider. But how could I push it further? I said to myself. I decided to light the stop sign as well, as I knew lighting an element in the right side of the frame especially an intense color as red, would balance out the composition quite nicely. If I had more flashes I would have lit a few more things in this scene for sure! It has inspired me to shoot a new series based off this image.
The technical side of this image: I hid one sunpak 555 (If I were a light genie/master like Joe McNally I would have used a canon speedlite) in the stairs to light Stevie right as he was going through the kink. The stop sign was lit was another sunpak 555 placed just below it in the snow. I then underexposed the scene by two stops to create contrast, and then fired the flashes with pocket wizards.
---
Go Deep
At X-games two years ago I was on a mission to deliver something different but with meaning. This image of Kevin Pearce is during finals at X-games on his last run, last chance for X-games gold, its snowing hard out, lights are on, its game time! I wanted to bring across the perspective of KP, and the thought of what is going through his mind at this moment. When this ran in a magazine as a double page spread, I made sure to include these thoughts in the caption, ideally bringing the rider into Kev's boots justifying the pressure that may go through an athletes mind at this point and time during a serious competition.
---
Shoot more than the action shots
Action shots are cool and insane but they only tell half the story. I personally like the road there more than the action. As I often find you are able to get moments and drama that are just as intense as a guy in the sky.
This was shot on a backcountry, deep in Whistler backcountry, BC. When you go out on these missions they are no joke, avalanche probe, shovel, transceiver, extra shovel, extra gas can, food and water. I wanted to show that as I shot this image on top of a peak during a temporary white out we were waiting to clear.
Here is Eric Jackson as we got dropped off on top of a huge peak by the heli in Terrace, BC. Using minimal depth of field helped focus the attention to Eric and secondary to the mayhem of the heli taking off.
---
Travel Shots – Getting There
I love to travel and I love seeing images of travel. Shoot how you got there, the funny or dark or cold times. Shoot it all, just keep shooting. Here is Eric Jackson in Alaska; I wanted to portray the hard work and long days to shoot a video part in snowboarding. The behind the scenes numbers of what was spent that year.
Gigi Ruf, in Zurich train station: In the snowboarding world, you are constantly on the search for one thing, good snow. I wanted to show that with a bit of mayhem. At the time I didn't have a tripod, so I laid on the floor to shoot the long exposure. To eliminate camera shake from shutter release, I set the timer to 2 seconds. That way I could shoot the photo without bumping the camera when the shutter goes off.
---
Know your equipment and double check it
This is very important as if you are out on location and all of a sudden you are missing something, it will destroy the entire shot like dominos, as everything is reliant on the next. I spend a lot of time with my equipment, running through it all, checking sync cords, batteries, having spare batteries, cleaning, drying out etc. It's very important to be prepared, especially on a job in front of a client. Being prepared for anything is part of being a professional. Sometimes you need to problem solve and if you are creative with your tools you should be able to make something out of nothing.
Make sure you have a good camera bag built for use in snow, check out Burton.com. They make three different backpacks- F-stop pack, Focus pack, and zoom pack; they vary in size from bag to bag. Designed by legend snowboard photographer Jeff Curtes, these bags are ready for anything. I have been using them for the past 6 years.
---
Don't shoot a guy in the sky – you must show a reference point
It drives me a bit nuts when photographers (typically not from the snow world) just point their lens in the air and fire away of the guy in the sky. You must show a reference from the ground in your composition such as the lip (the edge) of the half pipe, or the take off of the jump. This way the size of the air the rider/skier is doing, is justified by the ground reference
---
Have fun and shoot it
Part of the snow subculture is the punk rock attitude, screwing off, and having a blast. People like to laugh, show that through some of your work. Sometimes you egg on the situation like in the image below. And other times you are just walking back to the hotel and your friend decides he wants to moon the world – ha-ha.
---
Create a project or series to work on
Working on a project or series keeps your mind going, as your ultimate goal is to deliver a unique view to the story or subject through your photography. Last spring I completed a two year series, "Snow-Silo". I wanted to eliminate environments in snowboarding and specifically focus on the rider's style and the feature they were riding. So, I brought a huge 20 foot by 20 foot white canvas to the mountain at night, lit it like a studio, and shot silhouettes against it. 
Read my blog
 for more information.
Personal projects I feel can be a great way to express yourself creatively and I hope you have a good time with it as the options are endless.
Now go out and kill it!
---
Follow all the action with Cole through his website and blog!